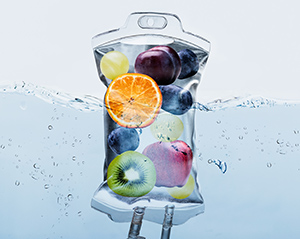 What is the fastest way to replenish nutrients and vitamins back into your system? With the use of IV therapy. Physicians now use IV Therapy as a delivery mechanism for various vitamins, minerals, and nutrients.
The Myers' Cocktail is the most well-known version - and while it put IV Therapy on the map as an exciting new delivery method for transforming health, it is now only one of many IV Therapy options.
The delivery of vitamins, minerals, and a vast array of nutrient combinations via intravenous access can be one of the most powerful tools for revolutionizing your health, as they are introduced directly into the circulatory system and quickly absorbed. The rate of absorption is 92% vs. only a 50% rate of absorption via the oral route where nutrients are ingested by mouth. This is a tremendous difference, especially if you are suffering from a chronic condition.
Experience the next level in the evolution of health and see what IV Therapy can do for you. Call (206) 966-4522 or contact us online today to schedule your consultation!
What is IV Therapy?
IV Therapy is a medical protocol utilized to administer medications, vitamins, minerals, and an array of nutrients when increased or rapid absorption is needed. IV access is sometimes used because it avoids first-pass metabolism in the liver. IV Therapy can also be used to correct electrolyte imbalances and rehydrate the body.
IV Therapy Options at Water's Edge
IV bars have become all the rage – with most boasting a "menu" from which you can choose. However, at Water's Edge, we believe it is imperative that our patients understand their options in the context of medical guidance and expertise.
Here is just a partial list of your IV Therapy options at Water's Edge:
Youth and Vitality

This infusion promotes skin health and appearance and improves overall energy, mood, and well-being.

Refresh and Rehydrate

This infusion can help rehydrate and replenish vital fluids your body needs.

Athletic Recovery (Recovery and Rebuild)

This infusion is beneficial for athletes to improve performance by replenishing lost fluids and electrolytes, preventing dehydration, promoting faster recovery time, speeding up healing, refueling the body, and supporting overall health and well-being.

Immunity

This infusion will help with recovery from illness, strengthen your immune system and support whole-body wellness.

Detox

This infusion uses a powerful antioxidant to help break down carbohydrates and produces energy which will help encourage liver detoxification and support nerve health.

Beauty Replenish

This infusion will help fortify your hair, skin, and nails, and support collagen production to improve complexion.

Myers' Cocktail

This infusion can help prevent cell damage and deterioration, boost your immune function, help regulate the optimal function of nerves and muscles, and jumpstart your metabolic system. First developed by the late John Myers, MD, who was the first to introduce this vitamin and mineral treatment, he originally designed this formula to treat numerous clinical conditions. Learn more here.
We may also decide to customize an IV Therapy cocktail that is designed exclusively for you.
What Conditions Can IV Therapy Help?
IV Therapy impacts everyone differently, but there are common results patients typically experience.
From increasing energy levels to promoting weight loss or detoxing your body, IV Therapy can be a remarkably effective tool for creating a renewed state of wellness. It has been shown to be effective in improving conditions like:
Nutritional deficiencies
Chronic illness
Arthritis
Migraine
Decreased energy levels
Cancer
Neuropathy
Weight gain
Chronic pain
Dehydration
Cardiovascular conditions
Fibromyalgia and more
Is IV Therapy Safe?
IV Therapy has an outstanding safety profile. It has a long history of use in everyday medical practice and has been commonly used to provide nutrients for coma patients and others who are unable to consume food or water by mouth – sometimes for decades.
There is no risk of disease transmission. Talk to your provider before the procedure if you're taking any medications that may be an issue or if you experience any severe discomfort after your treatment.
What to Expect from IV Therapy at Water's Edge
The results you experience from IV Therapy will vary according to individual factors like age, genetic background, as well as lifestyle, health, and past and present environmental conditions.
On your first visit, our team will discuss your medical history, lifestyle, daily stressors, diet, exercise habits, and current medications. We may ask you questions about your sleep, appetite, bowel movements, and current emotional state, all to fully understand what areas of your health would benefit from treatment.
The entire IV Therapy process, which includes preparation and infusion, takes approximately 1 to 3 hours. Our providers will provide instructions on how to prepare for your appointment. For instance, in some cases, certain medications like anticoagulants or NSAIDs may need to be temporarily paused.
The first step to any treatment – including IV Therapy - is to understand your overall health and the specific conditions you wish to treat. We can then zero in on which type(s) of IV Therapy might be right for you. Because illness or chronic conditions can be caused by numerous underlying factors, there should never be a one-size-fits-all approach with IV Therapy treatment options. In some instances, the wrong IV Therapy choices may actually worsen your condition.
Working with a knowledgeable, experienced practitioner is the most important step you can take before embarking on any IV Therapy protocol.
Request Your Appointment Today!
For years, our skillful, experienced naturopaths practicing at Water's Edge Natural Medicine Clinic in Seattle, WA, have been helping people achieve wellness and wholeness in every area of their lives. Our IV Therapy specialists are competent, knowledgeable and bring years of experience and impeccable recommendations.
If you are interested in trying IV Therapy and have questions, we invite you to reach out to us. We're here for you and happy to answer any questions you may have about your symptoms and our healing treatments.
Collect your list of symptoms and questions, and call Water's Edge Natural Medicine in Seattle, WA at (206) 966-4522 or contact us online.
---
Our Location
Water's Edge Natural Medicine
1000 2nd Ave, Suite 2920
Seattle, WA 98104
Get Directions
Phone: (206) 966-4522
Fax: (206) 283-1924
Serving patients in Seattle, WA and the surrounding King and Snohomish County communities including: Queen Anne, Mercer Island, Medina, Bellevue, Redmond, Snohomish, Kirkland, Edmonds.
| | |
| --- | --- |
| Monday: | 9:00am - 4:00pm |
| Tuesday: | 9:00am - 4:00pm |
| Wednesday: | 8:00am - 3:00pm |
| Thursday: | 9:00am - 4:00pm |
| Friday: | 8:00am - 12:00pm |
| Saturday: | Closed |
| Sunday: | Closed |