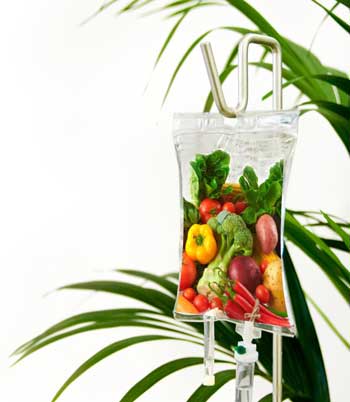 *This service available at Seattle, WA location only

IV vitamin therapy was pioneered by Dr. John Myers of Baltimore in 1954. The Myers Cocktail, a now popular formula, was named after him posthumously by a colleague. This form of micronutrient therapy was designed to treat conditions like vitamin deficiencies, asthma, migraines and fibromyalgia, and many other symptoms and conditions.
Contact Water's Edge Natural Medicine to discuss options for boosting your health with IV nutrient therapy using The Meyers' Cocktail. Schedule a consultation today with us by contacting us online or calling us at (206) 966-4522!
What is The Meyers' Cocktail?
The Myers' Cocktail is a carefully selected combination of liquid vitamins and minerals that is injected intravenously. IV administration allows you to attain much higher active nutrient levels in your blood than we could achieve if we used oral vitamins or even intramuscular injections. Depending on the condition being treated, injections can be used at regular intervals for chronic conditions - or on an acute basis only.
Our Treatment Philosophy
Here at Water's Edge, we have specifically designed all of our healing regimens and procedures to treat your illness, balance what is imbalanced, ease your symptoms and empower your body to heal itself. Our practitioners begin by listening to your experience – learning about your symptoms and medical history. From there, they will work with you to discover the perfect approach to restore your vitality and health.
What Conditions Does the Meyers' Cocktail Treat?
The Meyers' Cocktail can help prevent cell damage and deterioration, boost your immune function, help regulate optimal function of nerves and muscles, and jumpstart your metabolic system. Many patients experience pain relief, increased energy, reduced allergies, fewer headaches, less PMS, better mood, disease protection, and many other benefits.
This classic IV cocktail is a very popular and effective treatment for many common conditions, including:
Chronic pain
Migraine headaches
ADD/ADHD
Weight loss
Vitamin deficiencies
What to Expect at Your Session?
At Water's Edge Natural Medicine, our naturopaths have years of experience and can help address a variety of emotional, mental and physical health conditions with The Meyers' Cocktail. We offer The Meyers' Cocktail treatments typically as regular treatments for chronic conditions, but it can be used solely for acute conditions as well. The course of The Meyers' Cocktail treatment that follows will of course vary with each individual.
On your first visit, our team will discuss your medical history, lifestyle, daily stressors, diet, exercise habits, and current medications. We may ask you questions about your sleep, appetite, bowel movements, and current emotional state, all to more fully understand what areas of your health would benefit from treatment.
The results you experience from The Meyers' Cocktail will vary according to individual factors like age, genetic background, as well as lifestyle, health and past and present environmental conditions.
At Water's Edge Natural Medicine in Seattle, WA, our goal is to bring healing, wholeness and balance – and The Meyers' Cocktail can be a powerful tool to accomplish restoration and health in your body, mind and spirit.
Request Your Appointment Today!
For years, our skillful, experienced naturopaths practicing at Water's Edge Natural Medicine Clinic in Seattle, WA, have been helping men and women achieve wellness and wholeness in every area of their lives.
If you are interested in trying The Meyers' Cocktail and have questions, we invite you to reach out to us. We're here for you and happy to answer any questions you may have about your symptoms and our healing treatments.
Collect your list of symptoms and questions, and call Water's Edge Natural Medicine in Seattle, WA at (206) 966-4522 or contact us online.
---
Our Location
Water's Edge Natural Medicine
1000 2nd Ave, Suite 2920
Seattle, WA 98104
Get Directions
Phone: (206) 966-4522
Fax: (206) 283-1924
Serving patients in Seattle, WA and the surrounding King and Snohomish County communities including: Queen Anne, Mercer Island, Medina, Bellevue, Redmond, Snohomish, Kirkland, Edmonds.
| | |
| --- | --- |
| Monday: | 9:00am - 4:00pm |
| Tuesday: | 9:00am - 4:00pm |
| Wednesday: | 8:00am - 3:00pm |
| Thursday: | 9:00am - 4:00pm |
| Friday: | 8:00am - 12:00pm |
| Saturday: | Closed |
| Sunday: | Closed |