Natural Solutions for Depression and Anxiety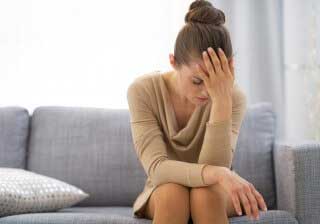 Most people experience depression and anxiety at some point in their lives. Coping with the loss of a loved one, unemployment, divorce, or general dissatisfaction with one's life can cause periods of stress and low mood.
However, for those who experience these feelings every day, without an apparent cause, symptoms can be overwhelming and even debilitating. People who struggle with anxiety and/or depression often have a difficult time with everyday functioning. In addition, because nearly one-half of individuals diagnosed with depression also have an anxiety disorder, symptoms can compound, leaving a person emotionally and even physically worn out and unable to handle even mild stressors.
Long-term, untreated depression and anxiety have been linked to many health conditions, including heart attacks, stroke, and coronary artery disease. By treating these conditions early with natural techniques, patients can avoid negative side effects.
Safety note: If you are experiencing suicidal feelings or ideation, contact the suicide hotline immediately.
Naturopathic medicine is effective in the long-term treatment of emotional conditions but is no substitute for life-saving intervention in a moment of crisis.
Can Naturopathic Medicine Can Help with Depression and Anxiety?
Naturopathic physicians understand that there is a connection between the mind and the body. Our thoughts shape the way our bodies react and can create stress where there may be no external trigger.
Whether you are experiencing a major depressive episode or simply feel like low mood keeps you from the sense of joy you know you deserve to feel, our team is here to help. We draw from a time-tested collection of treatments that can help improve mood, concentration, and focus, and help you regain your sense of both hope and ease, all of which can improve relationships, productivity, and overall health.
Naturopathic Treatment of Depression and Anxiety
Naturopathic treatment of depression and anxiety may include:
Aromatherapy
Homeopathy
Massage therapy
Meditation
Neurotransmitter balance
Nutritional counseling
Relaxation techniques
Often, a combination of treatments, used over a period of time, proves most effective. Our team will work with you to customize a treatment plan that targets your specific needs and bring you a sense of ease.
Request Your Appointment Today!
If you are suffering due to anxiety and/or depression, Water's Edge Natural Medicine is here to help. Depression and anxiety can put a freeze on your feelings and your life. You can trust our team to provide compassionate, expert care, each step of the way.
Feeling far away from a happy, authentic experience? We'll help bring you back, gently and naturally. Give us a call today to discuss your options further.
To request your appointment, call (206) 966-4522 or contact us online.
---
Our Location
Water's Edge Natural Medicine
1000 2nd Ave, Suite 2920
Seattle, WA 98104
Get Directions
Phone: (206) 966-4522
Fax: (206) 283-1924
Serving patients in Seattle, WA and the surrounding King and Snohomish County communities including: Queen Anne, Mercer Island, Medina, Bellevue, Redmond, Snohomish, Kirkland, Edmonds.
| | |
| --- | --- |
| Monday: | 9:00am - 4:00pm |
| Tuesday: | 9:00am - 4:00pm |
| Wednesday: | 8:00am - 3:00pm |
| Thursday: | 9:00am - 4:00pm |
| Friday: | 8:00am - 12:00pm |
| Saturday: | Closed |
| Sunday: | Closed |