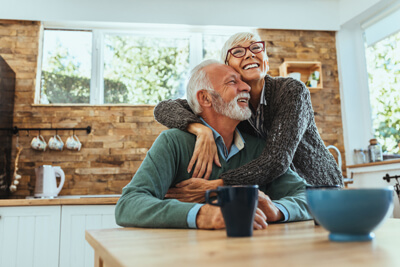 Healing Autoimmune Disease
One in every five Americans has an Autoimmune Disease. More than 100 forms of Autoimmune Disease have been identified. While some are more commonly recognized - like Type 1 diabetes, Multiple Sclerosis, Rheumatoid Arthritis, Lupus and Hashimoto's - others are more rare and not easily recognized.
Oftentimes with Autoimmune Disease, people can suffer for years before getting an accurate diagnosis. Even when finally diagnosed, conventional medicine offers no cures and few effective treatments - most often utilizing steroids, pain pills or immune-suppressing medication, approaches that can create even more health issues.
Some estimates suggest well over 50 million people suffer with Autoimmune Disease in the U.S., and for many, it is a life sentence.
That's why our naturopathic approach to Autoimmune Disease can be life changing. While conventional medicine treats symptoms, naturopathic medicine looks at the individual as a whole, assessing factors ranging from diet to hormones to digestive health. Our goal is to enable you to overcome autoimmune disorders, utilizing targeting testing and accurate diagnoses that will help us develop a personalized treatment plan to maximize real healing.
We can help. Compile your list of symptoms, and call Water's Edge Natural Medicine in Seattle, WA at (206) 966-4522 or contact us online.
What is Autoimmune Disease?
A normal, healthy immune system defends against infection and disease, but when the immune system instead begins to attack your healthy organs, tissues and cells it is considered an autoimmune malfunction caused by an Autoimmune Disease.
An autoimmune response can attack anywhere in your body, and it is often a chronic response. These diseases can profoundly impact and weaken your bodily function, becoming debilitating – and can even be life-threatening. In fact, Autoimmune Disease is now one of the top 10 causes of death for women in the U.S.
There are many different types of disease that fall into the category of Autoimmune Disease. Water's Edge Natural Medicine specializes in a naturopathic approach to treatment of Autoimmune Disease, including:
If you have symptoms that cannot be successfully diagnosed or treated and you suspect an Autoimmune Disease, let Water's Edge Natural Medicine in Seattle help you restore healthy immune function.
Autoimmune Disease Causes and Risk Factors
The cause of Autoimmune Disease is not always clear. There can be multiple causes or risk factors. Autoimmune diseases can cluster in families, impacting generations. They can also cluster in individuals – if you have one Autoimmune Disease, you may be prone to have multiple Autoimmune Diseases.
Some of the causes or triggers can include:
Certain medications and treatments (like radiation therapy)
Specific medical conditions (e.g., disorders of the hypothalamus or pituitary gland) or sometimes even simple infections or illness
Congenital disease that is present at birth
Exposure to toxins (e.g., mercury, mold, or agricultural chemicals
Certain foods or ingredients in foods
Thyroid issues that trigger an autoimmune response in the thyroid and even in other areas of the body
Stress response to a severe stress event or chronic lesser stressors
Digestive issues
Some of the risk factors for Autoimmune Disease include:
Age - Many autoimmune conditions occur in the second half of adulthood when immune function has declined.
Gender – Even though females tend to be healthier and live longer than men – and are less susceptible to infectious disease in general – they comprise 80% of patients diagnosed with Autoimmune Disease.
Family history – A genetic background of Autoimmune Disease can be predictive for future generations. Also, Autoimmune Disease can cluster in families.
Symptoms of Autoimmune Disease
Autoimmune Disease can manifest with symptoms like joint pain, fatigue, chronic pain, brain fog, digestive symptoms, skin issue, depression and anxiety, and any number of common symptoms, but it will manifest differently depending on the individual and the specific type of Autoimmune Disease involved. Two people with Hashimoto's, for example, will not always have the same symptoms – which is part and parcel of why Autoimmune Disease can be so challenging to diagnose, requiring considerable knowledge, experience and expertise.
Diagnosis and Treatment of Autoimmune Disease
At Water's Edge Natural Medicine, the course of treating Autoimmune Disease and its symptoms will vary with each individual patient. We will create a treatment plan designed just for you. We recommend you compile a complete list of your symptoms, medical conditions and medications before your first consultation. We will review your medical history, lifestyle factors, current medications and other health concerns.
We use blood tests to rule out other conditions that may be causing your symptoms. We will also test your hormone levels – especially thyroid hormones, which have increasingly been linked to Autoimmune Disease.
Our goal is to utilize healing regimens free of the side effects that come with conventional treatment options. Since your immune system resides in your gut, healing any issues with your digestive system will be an important step, but there are many other approaches, including:
Medical nutrition plan to avoid foods that trigger Autoimmune Disease (e.g., gluten-containing foods when you have an autoimmune condition like Celiac Disease)
Targeted vitamins, supplements or IV vitamin therapy
Identifying and addressing food allergies and sensitivities, as well as environmental allergies that may be contributing factors
Herbal remedies
Identifying and removing environmental toxins in your life
Stress management and restoring adrenal function
Acupuncture can be helpful with many autoimmune conditions
Medical weight loss plan, together with a customized movement regimen that is appropriate for your physical condition, to help counter the weight gain that is commonly experienced with certain autoimmune conditions
Other recommended lifestyle modifications
If you are struggling with Autoimmune Disease, working with a doctor who understands the complexity of your condition – as well as the complex array of treatment options that can maximize a healthy immune response – is important.
At Water's Edge Natural Medicine, we offer the most up-to-date and comprehensive testing and treatment to bring renewed health and healing from the troubling symptoms of Autoimmune Disease – getting to the root causes.
Request your consultation today!
If you have been diagnosed or have symptoms of Autoimmune Disease and have questions, we invite you to reach out to us. We're here for you, every step of the way, and happy to answer any questions you may have about your symptoms and our methods to restore balance and bring you back to optimal health and normal immune function.
Compile your list of symptoms, and call Water's Edge Natural Medicine in Seattle, WA at (206) 966-4522 or contact us online.
---
Our Location
Water's Edge Natural Medicine
1000 2nd Ave, Suite 2920
Seattle, WA 98104
Get Directions
Phone: (206) 966-4522
Fax: (206) 283-1924
Serving patients in Seattle, WA and the surrounding King and Snohomish County communities including: Queen Anne, Mercer Island, Medina, Bellevue, Redmond, Snohomish, Kirkland, Edmonds.
| | |
| --- | --- |
| Monday: | 9:00am - 4:00pm |
| Tuesday: | 9:00am - 4:00pm |
| Wednesday: | 8:00am - 3:00pm |
| Thursday: | 9:00am - 4:00pm |
| Friday: | 8:00am - 12:00pm |
| Saturday: | Closed |
| Sunday: | Closed |