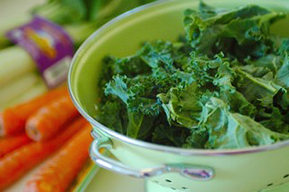 Winter is a time of retreat, when human beings spend more time inside, local crops diminish until Spring, and, in this corner of the U.S., sunlit hours decrease. All of these changes can add up to seasonal colds and feelings of stress or weariness.
Natural medicine offers many solutions to the age-old winter-wellness question.
Consider the following tips for sustaining your energy when cool weather sets in.
Immunize with Food
According to the World Health Organization, a good diet is the best kind of immunization. Avoid pre-packaged foods full of caffeine, sugar, and artificial flavoring and opt for nutritious items devoid of toxins. Not only to foods low in nutrients fail to nourish the body; they also deplete the body of its resources by forcing it to defend against what it consumes.
Excellent choices for winter consumption include:
fruits
vegetables
complex carbohydrates
protein
Organic foods in particular are excellent sources of toxin-free nutrients and exactly what your body needs. Fresh, seasonal produce is essential to keeping energy levels high, so seek out winter foods like:
carrots
parsnips
kale
cranberries
yams

Eating by color as well as vitamin content will help you get balanced portions of essential nutrients. Particularly vital in winter are Omega-3 Fatty Acids, found in fish and avocado, as well as Vitamin D, which is also found in fish (salmon, tuna, flounder), milk, pork, eggs, mushrooms, ricotta cheese, as well as beef liver.

Use Medicinal Ingredients

Preventing winter illness can be as easy as consuming herbs and spices that increase physical vitality, including:

onion
garlic
horseradish
rosemary
oregano
thyme
sage
pepper
basil

These herbs help to build your immune system, which fights for your health day in and day out. Other super foods include goji berries and bee pollen, which can be added to meals and smoothies for flavor, texture, and nutritional benefit.

Exercise

This winter, stay moving, and if possible, do it outside. Moving your body prevents energetic stagnation, lubricates your joints, and helps maintain your weight by building muscle and burning fat. The sweat produced during a good workout helps to detoxify the body, and doing so outdoors provides a Vitamin-D rich sampling of sunlight, boosting mood and bone strength.

Fitting in exercise during the winter can be challenging due to waning afternoon light. Try signing up for a gym near your job and bringing a change of clothes for a lunch break workout. Going for a stroll around your office park can also be invigorating.

Naturopathic Practices

Making an appointment with a naturopathic physician might be the first step toward truly feeling your best during the winter months. Our experienced physicians at Water's Edge Natural Medicine, with locations in Seattle WA and Menlo Park CA, can assess your nutritional needs, craft a dietary plan with you, and recommend supplemental therapies, including acupuncture and even bioidentical hormone therapy, to further balance and rejuvenate your system.

A little pampering is a great mood-booster, so scheduling a skin care treatment or weight loss plan appointment may be just what the doctor ordered to help you feel great again.

Naturopathic medicine offers a wide variety of nutritional, supplemental, and bodywork services that can help you ward off winter colds, flu, and blues. Consider one of the above for a self-care revolution that heats up when temperatures cool down.