*This service available at Seattle, WA location only
Skin Tightening and Body Contouring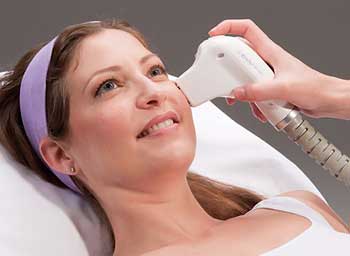 Regenerate and restore dull, wrinkly, sagging skin with this state-of-the-art treatment that tightens skin as well as improves skin's texture, tone, and color. EndyMed is safe and painless, and delivers consistent results that last longer than other treatments on the market You can even return to work the same day that you receive a treatment!
Skin Conditions Treated with EndyMed Skin Rejuvenation
Use EndyMed to tighten crow's feet, frown lines, forehead creases, neck sagging, chest wrinkles, and more. EndyMed also works for body contouring and reduction of unsightly scars.
How does EndyMed Skin Rejuvenation Work?
EndyMed is an FDA-approved device that uses Fifth Generation Multisource Bipolar Radiofrequency technology. Unlike other popular radiofrequency treatments, EndyMed does not cause inflammation or tissue damage to achieve desired results. This device gently raises tissue temperature to stimulate trophoblast activity, the cells responsible for collagen formation. Production of new collagen restores skin elasticity.
Request Your Appointment Today!
EndyMed is quickly becoming the treatment of choice for Hollywood's elite, as well as entertainment stars and royalty around the world. Water's Edge is the only clinic in the Northwest currently offering this treatment.
To request your appointment, call (206) 966-4522 or contact us online.
---
Our Location
Water's Edge Natural Medicine
1000 2nd Ave, Suite 2920
Seattle, WA 98104
Get Directions
Phone: (206) 966-4522
Fax: (206) 283-1924
Serving patients in Seattle, WA and the surrounding King and Snohomish County communities including: Queen Anne, Mercer Island, Medina, Bellevue, Redmond, Snohomish, Kirkland, Edmonds.
| | |
| --- | --- |
| Monday: | 9:00am - 4:00pm |
| Tuesday: | 9:00am - 4:00pm |
| Wednesday: | 8:00am - 3:00pm |
| Thursday: | 9:00am - 4:00pm |
| Friday: | 8:00am - 12:00pm |
| Saturday: | Closed |
| Sunday: | Closed |