Low Testosterone & Andropause: More Than a Midlife Crisis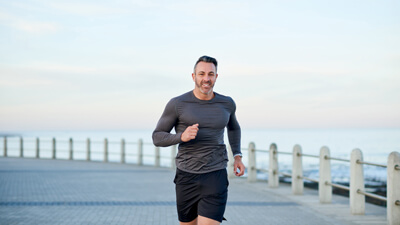 Andropause is a phenomenon that affects men as they approach middle age, beginning around age 40. Often called the male version of menopause, andropause marks the time of life when men begin to experience a drop in testosterone levels, often resulting in mild to severe physical and mental side effects. However, unlike women who lose their fertility during menopause, men do not have a physical milestone to mark the experience, and thus may not be aware of what is happening, or why.
Symptoms of Low Testosterone
When andropause occurs, it can bring on changes in mood and attitude, as well as:
Loss of energy
Changes in sex drive and physical endurance
Irritability
Weight gain
Memory loss
Diminished libido
Hair loss
Erectile dysfunction
Muscle loss
Night sweats
Gynecomastia (male breasts)
This decline in testosterone may put men at risk for health problems, including heart disease and weak bones. However, because the timing of andropause coincides with a period when men are sometimes questioning their values and life trajectory, changes in mood and attitude may not be entirely credited to hormonal issues.
Low Testosterone Risk Factors
While a loss of testosterone is common to nearly all men as they age, not all men will experience this change or to a degree that affects their day-to-day experience. Factors that may contribute to the onset of andropause include:
Psychological stress
Surgery or injuries
Alcohol abuse
Medications
Obesity/infections
Poor diet and lack of exercise
There is no way to predict whether a man will develop symptoms that require medical intervention. However, if you are experiencing unpleasant symptoms as a result of andropause, our team at Water's Edge Natural Medicine can help.
Low-T Treatments
What if there was a treatment that could help to relieve the effects of andropause and keep your testosterone going strong?
Bioidentical hormone replacement therapy can help by replacing the hormones your body is no longer producing with hormones found in nature and synthesized to match your own.
Our team cares about your health and is committed to helping you rediscover your most vital self. We take the time to listen to both your symptoms and medical history and come up with a treatment plan. In addition, we offer acupuncture, herbal remedies, and nutritional counseling, all of which can help bring your body back into balance.
Request Your Appointment Today!
To request your appointment, call (206) 966-4522 or contact us online.
---
Our Location
Water's Edge Natural Medicine
1000 2nd Ave, Suite 2920
Seattle, WA 98104
Get Directions
Phone: (206) 966-4522
Fax: (206) 283-1924
Serving patients in Seattle, WA and the surrounding King and Snohomish County communities including: Queen Anne, Mercer Island, Medina, Bellevue, Redmond, Snohomish, Kirkland, Edmonds.
| | |
| --- | --- |
| Monday: | 9:00am - 4:00pm |
| Tuesday: | 9:00am - 4:00pm |
| Wednesday: | 8:00am - 3:00pm |
| Thursday: | 9:00am - 4:00pm |
| Friday: | 8:00am - 12:00pm |
| Saturday: | Closed |
| Sunday: | Closed |