Bioidentical Hormone Replacement Therapy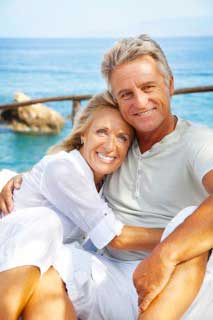 When something doesn't feel right in your body, you want to take action in the safest, most effective, and natural way possible. Hormonal shifts and the subsequent symptoms that occur during Menopause, Andropause, and prior to the start of a woman's monthly period (PMS/PMDD) can cause unpleasant and sometimes disruptive symptoms that affect our day-to-day lives, jobs, and relationships.
Bioidentical Hormone Replacement Therapy re-establishes balance in your body by providing specifically-designed hormones that are molecularly identical to those that naturally occur in your body. These hormones are sourced from nature, where they develop in soy or wild yam plants and are modified to create an exact match to your own hormones. By replacing the hormones lacking in your body with these organic options, you can reclaim your natural balance and alleviate — even eliminate — problematic symptoms.
Are Bioidentical Hormones Right For You?
Bioidentical hormone therapy can help to soothe the following symptoms: hot flashes, mood swings, decreased energy, hormone imbalance, fatigue, erectile dysfunction, low libido, sleep disturbances, anxiety, thinning/sagging skin, weight gain, metabolic issues, bone loss, and depression, many of which are associated with menopause, andropause, and PMS.
If you have experienced any of the above and are concerned about their effect on your life, bioidentical hormone therapy may be right for you.
Our Treatment Philosophy
Here at Water's Edge, we have designed our treatment process specifically to ease your symptoms and empower your body to heal itself. Our practitioners will begin by listening to an account of your symptoms and medical history. From there, they will work with you to discover the perfect formula to balance your hormone system, alleviate discomfort, and restore your vitality.
Hormone Delivery Methods
Because bioidentical hormones can be taken orally or absorbed topically, they may be prescribed to you in cream or capsule form, depending on your body's needs. Our naturopaths make sure to always take your personal preferences into consideration.
Follow Up Visit and Testing
Once your naturopath prescribes a course of treatment, she will want to see you again for follow up visits and retesting to ensure that your body is adjusting properly to these hormones. If any issues arise, your physician works with you to adjust the dosage or prescribe something new to ensure that you achieve the right balance.
Request Your Appointment Today!
Bioidentical hormone replacement therapy provides a natural alternative to traditional hormone replacement therapy, tailored specifically to your unique system. If your life has been negatively affected by hormonal changes, don't suffer in silence.
Contact Water's Edge Natural Medicine to discuss options for achieving a healthier, more balanced You.
To request your appointment, call (206) 966-4522 or contact us online.
---
Our Location
Water's Edge Natural Medicine
1000 2nd Ave, Suite 2920
Seattle, WA 98104
Get Directions
Phone: (206) 966-4522
Fax: (206) 283-1924
Serving patients in Seattle, WA and the surrounding King and Snohomish County communities including: Queen Anne, Mercer Island, Medina, Bellevue, Redmond, Snohomish, Kirkland, Edmonds.
| | |
| --- | --- |
| Monday: | 9:00am - 4:00pm |
| Tuesday: | 9:00am - 4:00pm |
| Wednesday: | 8:00am - 3:00pm |
| Thursday: | 9:00am - 4:00pm |
| Friday: | 8:00am - 12:00pm |
| Saturday: | Closed |
| Sunday: | Closed |