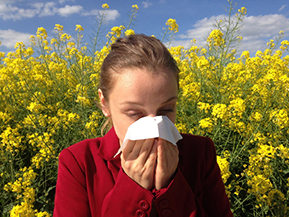 Menopause can cause a wide variety of unpleasant symptoms –including allergies. Understanding what triggers allergies and why can help you troubleshoot periods of discomfort and discover preventative self-care.
How Allergies Work
Chemical messengers, known as hormones, govern many changes within the body, including menopause and allergies. Hormonal fluctuations can create an imbalance, causing the immune system to suffer and causing a woman to be more likely to experience allergies.
As menopause develops, a woman's body prepares itself to stop the menstrual process. The hormones estrogen and progesterone decrease significantly in order to enable her monthly cycle to cease. However, these fluctuations can increase the incidence of allergies and allergy symptoms, most often including hay fever, asthma, and dermatitis.
Hormonal fluctuations can cause a rise in histamine, causing an increase in hot flashes as well as allergic reactions. For this reason, women who have never suffered allergic reactions may develop them.
Allergy Triggers
Factors that can trigger increased allergy susceptibility include diet, certain medications, and stress. The good news for women is that the same treatments and lifestyle changes that reduce menopause symptoms will also positively affect/ reduce allergy symptoms. The most important factor to consider when treating allergies, and any hormonal imbalance, is to take the path of least resistance, trying the gentlest treatments first.
Natural Medicine Helps
Natural medicine provides excellent options for women experiencing a shift in their hormone levels. Bioidentical hormone replacement therapy, which utilizes naturally-occurring hormones from plants that perfectly match the makeup and shape of hormones made by your body, produces fantastic results for many women. Acupuncture, nutritional changes, and herbal supplements can also encourage positive changes in the body and soothe symptoms associated with fluctuating hormones.
Lifestyle changes that reduce stress and thus ease hormonal symptoms include getting enough rest, eating a nutritious diet, and taking time out from work and play for quiet and meditation.
While menopause is unavoidable, uncomfortable symptoms like allergies are not, and natural medicine can help. Contact Water's Edge Natural Medicine today – we'll help you feel like yourself again, or even better!