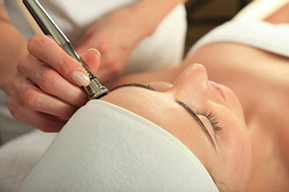 Every person deserves to look and feel their best. Good skin care allows you to put your best face forward and take on your career and personal endeavors with confident radiance. Looking for a skin care treatment that reduces signs of aging without surgical intervention? Look no further than microdermabrasion.
Microdermabrasion is a powerful form of mechanical exfoliation that removes the uppermost layer of dead skin cells from your face, chest, and hands, areas most prone to showing signs of aging. This comprehensive approach to skin care costs just a fraction of cosmetic surgery and produces equivalent results that look and feel natural.
What can I expect from a microdermabrasion treatment?
Any issues with the superficial layers of your skin can be treated with microdermabrasion using our state of the art EndyMed technology. As an advanced, non-surgical peel, this procedure stimulates the production of a new layer of skin cells that contain higher levels of collagen and elastin, enhancing your skin's supple elasticity, which enhances skin texture and reduces fine lines, age spots, and scarring.
Quick and effective, microdermabrasion treatments last one hour and end at Water's Edge with a soothing cream pack, cold spoon treatment and a gentle face, hand, and arm massage to leave you feeling supported, soothed, and refreshed.
Facial treatments don't just target your skin for healing. Treating yourself to a facial is a fantastic way to honor your own need for pampering, relaxation, and increased self-esteem. It is our goal at Water's Edge Natural Medicine to treat your entire being, from the inside out, and give you the support you need to look and feel your very best.
What Makes the EndyMed treatments so effective?
The EndyMed Machine uses beneficial radio frequencies to to stimulate the collagen that keeps skin looking plump and young to improve tone, elasticity, texture, dark/aging spots, rosacea. Our specialists at Water's Edge Natural Medicine can also help to remove fat deposits from unwanted areas. All of our efforts are customized to meet your needs so your youthful vitality will once again shine through your skin.
Microdermabrasion is a proven-effective method that uses anti-aging technology to tone and smooth your skin for a youthful, glowing appearance. If you have never tried microdermabrasion before, or if you have tried it elsewhere, call us at Water's Edge Natural Medicine to experience our EndyMed treatment. We guarantee you'll be satisfied with the results.
Love Water's Edge Natural Medicine? Give the gift of healing to a friend with a pre-purchased treatment!
---
Our Location
Seattle, WA
1000 2nd Ave, Suite 2920
Seattle, WA 98104
Phone: (206) 966-4522
Fax: (206) 283-1924
| | |
| --- | --- |
| Monday: | 9:00am - 5:00pm |
| Tuesday: | 11:00am - 7:00pm |
| Wednesday: | 8:00am - 3:00pm |
| Thursday: | 9:00am - 6:00pm |
| Friday: | 8:00am - 12:00pm |
| Saturday: | Closed |
| Sunday: | Closed |