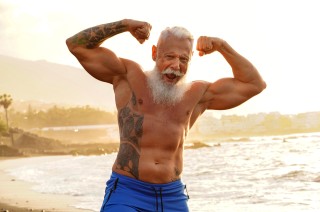 The production of testosterone and other hormones begin to decline in most men as they age. These hormones are the essential biochemical messengers that help regulate male bodily functions like sexuality, energy and metabolism. Produced in the testicles and endocrine glands, these hormones operate in perfect balance together. Hormonal shifts and the resulting symptoms that occur during andropause – or what's often referred to as "male menopause" can sometimes cause uncomfortable and life-altering symptoms that impact physical, sexual and professional performance – and even emotions and mental function.
Not all men experience andropause, but it is increasingly common. Between the age group of 50 and 60, up to 40 percent men develop it – and the odds increase with age. More than 90 percent of men age 80 and above experience andropause.
Most men don't realize the symptoms of hormonal imbalance can be relieved – or perhaps are hesitant to seek help. Don't continue to allow hormonal changes to affect your quality of life. Schedule a consultation today with Water's Edge Natural Medicine, contact us online or call us at (206) 966-4522!
What is Hormone Replacement Therapy for Men?
At Water's Edge Natural Medicine in Seattle, WA, we use bioidentical hormones to treat hormone imbalances. Bioidentical hormones are molecularly identical and mimic the effect of the natural hormones.
Bioidentical testosterone is typically derived from plant sources – soy or yams – then engineered to the same exact chemical structure of hormones already being produced naturally in your own body. Because of this, the body more readily accepts bioidentical hormones. Because they function in a manner identical to natural hormones, the result is more long-term hormone replacement, fewer unwanted side effects and improved hormonal balancing.
It has been established that treating hormone deficiencies or imbalanced hormones – especially testosterone – can alleviate troublesome symptoms, help prevent cardiovascular disease and bone loss, and have a powerful impact on a man's quality of life.
Our Treatment Philosophy
Here at Water's Edge, we have designed our treatment process specifically to ease your symptoms and empower your body to heal itself. Our practitioners will begin by listening to your experience – learning about your symptoms and medical history. From there, they will work with you to discover the perfect formula to balance your hormone system, alleviate discomfort, and restore your vitality, strength and overall health.
Are There Safety Concerns with BHRT for Men?
A variety of bio-identical hormones have been approved by the FDA. BHRT for men has been in use for 45 years and has been a successful treatment option with few, if any, side effects.
For younger men who still wish to have children, there is sometimes the concern that BHRT brings a risk of testicular shrinkage and lowered sperm count. In these cases, Clomiphene citrate (CLOMID), an agent commonly used for female infertility that has been shown to improve testosterone levels, libido and fertility in some cases, is an option.
What Symptoms Does Hormone Replacement Therapy Treat in Men?
When male hormones are out of balance, symptoms can include:
Low libido
Weight gain, including an increase in fat around internal organs
Decreased muscle mass
Erectile dysfunction
Thinning hair and loss of body hair, including reduced beard growth
Fatigue
Changes in mental state, including anger, depression, anxiety and diminished intellectual performance
Sleep disturbances
Lower energy levels
Hormone imbalances
Slowed metabolism and other metabolic issues
Dry, thinning skin
There are additional health concerns that may develop, including increased risk of osteoporosis and cardiovascular disease. The health concerns of men as they age may require a precise balancing of these essential hormones necessary for male strength, vitality and longevity, which calls for a specialized level of expertise and care.
What to Expect at Your Session?
At Water's Edge Natural Medicine, our naturopaths have years of experience and can help correct hormone imbalance symptoms by balancing hormones like testosterone with the use of bioidentical hormone replacement therapy (BHRT).
On your first visit, our team will discuss your medical history, lifestyle, daily stressors, diet, exercise habits, and current medications. The course of BHRT treatment that follows will of course vary with each man.
Comprehensive testing is the first step to optimizing hormone levels. We may conduct blood, urine, or stool tests to determine baseline levels of various hormones and to see how well you're metabolizing and detoxifying hormones like testosterone.
The results you experience from BHRT will vary according to individual factors like age, genetic background, as well as lifestyle, health and environmental conditions.
If you are struggling with symptoms of hormone imbalance, working with naturopaths who understand the complexity of male health and hormonal transitions is essential. At Water's Edge Natural Medicine in Seattle, WA, our goal is to help you achieve relief from symptoms, restored health, and freedom from the long-term health risks that come with imbalanced hormones.
Hormone Delivery Methods
Because bioidentical hormones can be taken orally or absorbed topically, they may be prescribed to you in various forms, depending on what is right for your body. At Water's Edge, we make sure to always take your personal preferences into consideration.
Follow Up Visits and Testing
Once a course of treatment is prescribed, we will want to see you again for follow-up visits and retesting to ensure that your body is adjusting properly to your BHRT regimen. If any issues arise, your dosage can be adjusted or alternate methods may be prescribed to ensure that you achieve and maintain the right balance of hormones.
Request Your Appointment Today!
For years, our skillful, experienced naturopaths practicing at Water's Edge Natural Medicine Clinic in Seattle, WA, have been helping men overcome the symptoms of hormonal imbalance with plant-based bioidentical hormones – the safest, most natural form of Hormone Replacement Therapy for men. At Water's Edge, we can help boost your mental function, libido and energy levels, relieve troublesome symptoms like mood swings and erectile dysfunction, and lower your risk of heart disease and bone loss.
If you are struggling with the symptoms of hormonal imbalance and have questions, we invite you to reach out to us. We're here for you, every step of the way, and happy to answer any questions you may have about your symptoms and our healing treatments.
Collect your list of symptoms and questions, and call Water's Edge Natural Medicine in Seattle, WA at (206) 966-4522 or contact us online.
---
Our Location
Water's Edge Natural Medicine
1000 2nd Ave, Suite 2920
Seattle, WA 98104
Get Directions
Phone: (206) 966-4522
Fax: (206) 283-1924
Serving patients in Seattle, WA and the surrounding King and Snohomish County communities including: Queen Anne, Mercer Island, Medina, Bellevue, Redmond, Snohomish, Kirkland, Edmonds.
| | |
| --- | --- |
| Monday: | 9:00am - 4:00pm |
| Tuesday: | 9:00am - 4:00pm |
| Wednesday: | 8:00am - 3:00pm |
| Thursday: | 9:00am - 4:00pm |
| Friday: | 8:00am - 12:00pm |
| Saturday: | Closed |
| Sunday: | Closed |