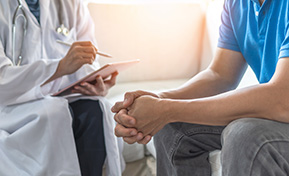 Cancer is always an unwelcome diagnosis that takes most people by surprise. Even when they've been ignoring signs and symptoms for a while, people have a hard time believing it's really happening to them. However, if you're going to receive the diagnosis, you want to receive it as early as possible in the disease. We all know that early detection is key to fighting and winning against cancer.
There is a complex array of symptoms that, put together, can alert you to cancer, and it's important not to ignore them – and screening for cancer can be a critical step.
At Water's Edge Natural Medicine, we make sure our patients have actionable options for cancer screening and early cancer detection testing. To schedule a confidential consultation with Water's Edge Natural Medicine – or to order the tests by mail - complete the form below or call us at (650) 240-4868!
What is Cancer Screening?
Screening tests can help reduce the advancement of the disease process and allow treatment in time to save or prolong life. Cancer screening is an important step in catching cancer early. You can screen for cancer before its telltale symptoms appear, making it easier to treat – and improving your prognosis if it is cancer.
Risk Factors for Developing Cancer
It makes sense to screen for cancer when you have symptoms, but by that time, the cancer may be advanced. It's more important to use cancer screening tools before you have symptoms. Why would you screen for cancer if you have no symptoms? Risk factors would be one reason. There are a variety of risk factors that may not cause it but can definitely increase your chances of developing cancer, including:
Genetics - a personal or family history of cancer
Some types of viral infections, such as human papillomavirus (HPV)
Chemical or radiation exposure
Excessive sun exposure
Alcohol or tobacco use
Obesity
Aging
Possible Symptoms of Cancer
Most symptoms that cause alarm and make you consider the possibility of cancer actually have another explanation, so our list below is not meant to scare you. These symptoms could easily be caused by some other illness, an injury, or even a benign tumor. Even if you do have cancer, it may be a form of cancer that is easier to treat than others – or it may be in its early stages, but it's important to know what the symptoms are.
Don't wait until you experience pain or severe symptoms before being seen. It's rare that a cancer will cause severe symptoms or pain in its early stages, so if you wait until your symptoms are severe, it may worsen your prognosis.
Each individual may experience a different combination of symptoms, and there are a wide range of symptoms that could signal any of the many forms of cancer. The symptoms that give us the greatest cause for concern are those symptoms that don't get better within a few weeks. Some early symptoms of the most common cancers might include:
Unexplained bleeding or bruising
Swelling or lumps in the groin, stomach, neck, underarm, or breasts
Any breast changes – not only lumps but changes in the skin or nipples
Skin changes that turn scaly or bleed, new moles or changes to moles, sores that don't heal
Bladder problems – pain or difficulty urinating, blood in urine
Changes in bowel habits or blood in stool
Unexplained neurological problems
Severe or unusual fatigue that doesn't improve after rest
Cough or hoarseness that does not go away
Problems eating or swallowing, belly pain, changes in appetite, nausea or vomiting
Unexplained weight gain or weight loss
Fever or night sweats with no known cause
Mouth changes, like bleeding, numbness, pain, white or red patches on your tongue or anywhere on the inside of your mouth
Seizures
New, unexplained hearing or vision problems
Drooping of the face
Jaundice
To provide a proper diagnosis – whether it's cancer or something else - we will conduct thorough testing and a comprehensive medical evaluation. It is important to understand your particular symptoms and their origin during the diagnosis stage of your treatment at Water's Edge Natural Medicine, so we will need you to make a thoughtful, comprehensive list.
If your symptoms give us cause for concern and suggest cancer, we will provide you every available venue for screening, testing, diagnosis, treatment and any necessary referrals to cancer specialists and clinical trials.
The Importance of Early Detection
There are two distinct approaches to early detection—screening and early diagnosis. Early detection, combined with prompt treatment, can help avoid more aggressive treatments and is associated with significantly reduced mortality in many cancers. When diagnosed early – before they begin to spread – the five-year survival rates are four times higher than cancers discovered later. Unfortunately, about 70 percent of cancers are caused by the very cancers that are not normally screened for.
Cancer Screening and Testing Options
At Water's Edge Natural Medicine in Seattle, WA, we offer the following cancer screening and testing options:
Galleri Pre-Cancer Screening Test: Galleri is a multi-cancer early-detection test that screens for 50 different cancers - many of which are not normally screened for – with a simple blood draw. Unfortunately, the test is not as sensitive to a few cancers that we are most looking for in our patients. It only has a 51% sensitivity to the 12 cancers that make up 2/3 of the most common cancers. However, used as a complement to single cancer screening, it is still one of the most helpful screening tools on the market.
The Galleri test can be included in a routine visit at our offices, so if you are interested, please don't hesitate to discuss with us if the Galleri test is right for you. We not only offer this screening test in our offices, but we can also ship out the testing kit to our out-of-state patients.
If a cancer signal is found, the results can point to where in the body the cancer is coming from – which can help guide our next steps. For more information about this essential screening test, visit the Galleri site.
In addition to the Galleri test, we can offer referrals for the Prenuvo Full Body Scan . There are different versions of the scan at different costs – and the Prenuvo scan can detect conditions ranging from cancer to spinal conditions to MS. Prenuvo can scan solid organs of your chest, abdomen, and pelvis for solid tumors 1.5cm or larger. The pelvis scan is sensitive to smaller prostate, cervical, uterine and ovarian tumors. It can also scan the head and neck for brain and neck tumors, including larynx, tongue and oral cancers.
At Water's Edge Natural Medicine in Seattle, WA, we are committed to an accurate diagnosis as the first step in treating cancer. Early cancer screening and testing can help us determine whether cancer is a potential health concern for you.
Request Your Appointment Today!
If you have symptoms, risk factors or concerns, we invite you to reach out to us. Perhaps you simply want to do cancer screenings on a regular basis as part of a prevention lifestyle – and we will support you in doing that. We have many lifestyle and treatment modalities geared to cancer prevention as well.
We can answer any questions you may have about your symptoms and our methods for screening and early detection of cancer. Our goal is to be with you at each step – ensuring you receive the best in timely screening, testing, diagnosis and any necessary treatment.
Compile your list of symptoms, and call Water's Edge Natural Medicine in Palo Alto, CA to schedule a consultation today! Contact us online or call us at (650) 240-4868!
---
Our Location
326 Bryant Street
Palo Alto, CA 94301
Phone: (650) 240-4868
Fax: (650) 494-4939
| | |
| --- | --- |
| Monday: | 9:00am - 5:00pm |
| Tuesday: | 11:00am - 7:00pm |
| Wednesday: | 8:00am - 3:00pm |
| Thursday: | 9:00am - 6:00pm |
| Friday: | 8:00am - 12:00pm |
| Saturday: | Closed |
| Sunday: | Closed |