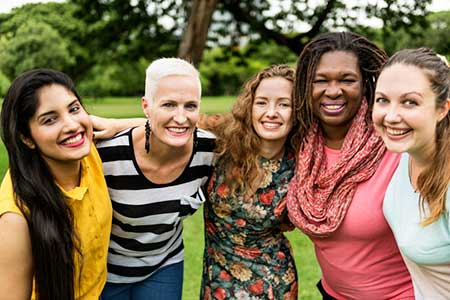 Your monthly period is a natural part of life, and certain symptoms remind you that it's approaching. You may get breast tenderness, feel bloated, or crave sweets. These are all signs that your body's hormone levels are changing in the week(s) leading up to your period.
But for some women, these symptoms are a source of predictable stress and discomfort. Instead of just a couple of annoying signs, you may find yourself having to cancel plans or stay in bed.
Symptoms of PMS
If this sounds familiar, you probably have premenstrual disorder (PMS). PMS causes many unwanted symptoms – both physical and emotional. Some women with PMS have just a few of these, while others have many:
Headache
Fatigue
Joint pain
Back pain
Weight gain
Bloating
Trouble sleeping
Breast tenderness
Acne
Irritability
Mood swings
Depression
Anxiety
Your symptoms may improve one month, only to get worse again the next month. But regardless of symptom severity, things usually improve by the second day of your period.
Causes of PMS
Though the exact cause is unknown, there are two primary factors that contribute to PMS:
Changes in hormone levels – Levels of estrogen and progesterone drop in the week leading up to your period. Since PMS disappears during pregnancy and menopause, it's clear that it's related to hormone fluctuations.
Changes in brain chemicals (neurotransmitters) – Low levels of serotonin may contribute to feelings of depression, fatigue, sleep issues, and food cravings.
Treatment for PMS
If your premenstrual symptoms are interfering with your life, you may benefit from natural treatment to bring balance back to your body. At Water's Edge Natural Medicine located in Palo Alto, CA, we use the following treatments to help you regain your sense of vitality:
Herbal remedies
Nutritional counseling
We also work with you to identify any environmental triggers – like food, stress, and sleep problems – that may be making your symptoms worse.
---
What is PMDD?
There are many similarities between Premenstrual dysphoric disorder (PMDD) and PMS. They follow the same patterns, occurring in the week(s) just before your monthly period. And they have the same general symptoms.
The difference lies in the severity. PMDD is a greatly intensified version of PMS and is much more disruptive to daily life.
Symptoms of PMDD
Both PMS and PMDD have symptoms such as fatigue, breast tenderness, and bodily discomfort. But in PMDD, the most prominent sign is one of the following emotional symptoms:
Extreme mood swings
Depression and hopelessness
Marked anger and irritability
Anxiety
Causes of PMDD
Like PMS, PMDD is thought to be caused by shifts in hormone and neurotransmitter levels. Researchers also suspect that women who experience PMDD may have underlying depression or anxiety. The biochemical shifts that occur in the weeks leading up to a woman's period just further amplify the emotional symptoms of these conditions.
Treatment for PMDD
Because of the severity of PMDD, it's important to get relief as soon as possible. A common treatment for PMDD is a class of drugs called SSRIs (Selective Serotonin Reuptake Inhibitors). These are commonly prescribed for depression and anxiety, with the goal of stabilizing mood.
However, since PMDD is largely caused by hormonal changes, only treatment that includes bringing balance to your hormones can provide lasting relief. At Water's Edge, our specialists use a variety of individualized treatments to bring your body back into balance, including:
Nutritional counseling
Supplements
Herbal remedies
Acupuncture and other energetic modalities
Treatment is specifically tailored to your unique history, symptoms, and lab results. And once your hormones are balanced, other seemingly unrelated conditions improve as well.
---
Request Your Appointment Today!
There's no need to dread your monthly cycle. If you've been struggling with uncomfortable premenstrual symptoms, our naturopaths can help.
We've helped women in San Mateo County break the cycle of PMS/PMDD, and we're ready to help you feel like yourself again.
To schedule your initial evaluation, call (650) 240-4868 or contact us online.
---
Our Location
326 Bryant Street
Palo Alto, CA 94301
Phone: (650) 240-4868
Fax: (650) 494-4939
| | |
| --- | --- |
| Monday: | 9:00am - 4:00pm |
| Tuesday: | 9:00am - 4:00pm |
| Wednesday: | 8:00am - 3:00pm |
| Thursday: | 9:00am - 4:00pm |
| Friday: | 8:00am - 12:00pm |
| Saturday: | Closed |
| Sunday: | Closed |