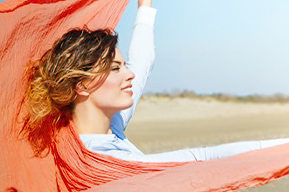 As menopause brings physical and emotional shifts as a woman's hormones change over time, this phase of life can seem dramatic and stressful. Yet it can also bring increased freedom, maturity, experience, and wisdom. Viewed from a positive angle, menopause is an excellent time to focus on your personal growth and vitality for the years ahead.
Positive Thinking Heals
Researchers have revealed that women with positive attitudes are less likely to experience negative side effects of menopause, including mood swings, depression, and hot flashes.
One way to get into the habit of thinking positively is to create a gratitude journal. Each day, take note of all the ways in which you are blessed and hold onto those thoughts as you move through all areas of your life. Doing so in the morning can be especially enriching.
Learn to Love Yourself
Embracing the joy of being you is the best use of your personal energy and allows you to shine in the way you were meant to. Enjoying positive thoughts about your body and personality can help get you through all of the challenges that menopause presents, and gives you an anti-aging boost.
Daily exercise can help add to your self-esteem and boost human growth hormones, which help maintain a youthful glow. It also helps keep your mind more clear and focused.
Time for Just You
The kids are all grown up. Your career is more established and perhaps compensating you well for years of work. Menopause brings about an amazing time to explore YOU, finding out what interests you now and how you can continue to grow as a person. Mind-body techniques, including yoga, tai chi, and meditation are excellent ways to embrace a new, developing sense of self and face this period of your life with optimism and a spirit of adventure.
Feeling Good, Every Day
By developing positive thinking and a strong mind-body practice, you learn to cultivate a deep inner peace. However, if you are still experiencing negative side effects of hormonal shifts, our hormone specialists at Water's Edge Natural Medicine are here to help. Our bioidentical hormone replacement therapies can help relieve menopause symptoms and bring back your youthful vitality. Contact us today!