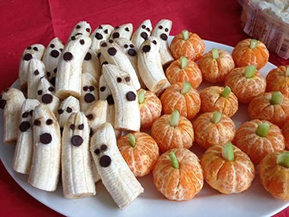 Halloween is coming and we know that this is one of the most fun holidays for kids! Stores are full of candy and costumes and it's easy to give in and let your kids indulge in sweets.
Overloading on sugar is easy to do, but it's definitely not healthy. Here are some healthy options that are fun and delicious for your family:
Boo-Nana Pops: Cut fresh bananas in half and put them on a popsicle stick. Dip in melted white chocolate and then freeze them. It's easy and your kids can help make them!
Fruit pumpkins: Peel a clementine orange, then add a celery stick to the top. You instantly have a fruit and vegetable pumpkin for your kids to snack on.
Candy Corn Cups: Instead of sugar-filled candy corn, take a glass cup and layer orange slices, pineapple, and whipped cream inside. You instantly have a fruity dessert that has candy corn colors.
Apple Teeth: Slice red apples, layer one side with peanut butter, then add marshmallows. Then add another apple slice with peanut butter to the top. You'll instantly have a snack that looks like a smile – they're just as fun to make as they are to munch on!
Chocolate strawberry ghosts: Dunk ripe red strawberries in melted white chocolate, then cool on a baking sheet. Add some mini chocolate chips to make eyes and mouths and you'll have spooky sweet ghosts to snack on.
Pumpkin cupcakes: Whip up a batch of pumpkin cupcakes and add a healthy cream cheese frosting. They're quick, easy, packed with fiber, and have less calories and sugar than other cupcakes.
Slime-Ade: Mix grape juice, apple juice, sparkling water, light corn syrup, and some drops of green or blue food coloring together and in just minutes, you'll have a creepy drink to serve. Add some gummy worms to the rims of the glasses for an extra slimy look!
Zombie eyeballs: Sometimes all you need is just a simple sign! Purple grapes in a bowl with a big sign that says "Zombie Eyeballs" will make your kids get excited about eating fresh fruit. Also great for a Halloween party table!
Ghost pretzels: Salty and sweet is the perfect combination! Take some pretzel sticks and dip them in melted white chocolate, then add mini chocolate chips to the top after they're dry. You'll have scary ghost pretzels for a great a great afternoon snack.
Mummy toast: All you need is a piece of toast, sliced cheese, and olives. Then, get creative with your placement and you'll soon turn a piece of plain toast into a mummy snack that will leave your kids full of healthy food rather than unsatisfying sugar!
Looking for more tasty ideas that boost your health? Our team provides in-depth nutritional guidance. Call us today for a free consultation!
Schedule a New Patient Consultation
At Water's Edge Natural Medicine, we are unable to process and rely on insurance claims for payment. Your insurance may pay for some of our services, though, and we will be happy to provide specific necessary codes so that you can file for reimbursement. Learn more.
Please do not submit any Personal Health Information (PHI). Current Patients can reach us via phone at (206) 966-4522